MSR Solutions Inc. provides innovative consulting engineering services. We assist in land development needs, as well as designing your water and wastewater treatment projects.
At MSR Solutions Inc., we provide outstanding quality work to ensure client satisfaction and community benefit.
We value a healthy and safe workplace. To that end, we continually work on our team development.
As a result of us adhering to our values, we can provide excellent service and deliverable solutions for you and your projects.
Regional District of East Kootenay
Cowichan Valley Regional District
Capital Regional District
Strathcona Regional District
MSR Solutions Inc.
Innovative Engineering Solutions
MSR Solutions Inc. provides innovative consulting engineering services. We assist in land development needs, as well as designing your water and wastewater treatment projects. Our clients work on many types of undertakings. We've provided services to everyone from golf course owners to private land developers to government agencies. We are based in Victoria, BC; however, you'll find our projects across British Columbia and beyond.
Personal & Informed Solutions
We understand this can be the most expensive component of development costs and how expensive refurbishing dated systems can be. At MSR, we also have extensive experience working with remote and small communities and we understand the unique challenges they face.
Cost-Effective & Innovative Solutions
At MSR Solutions, our team is continually seeking cost-effective and innovative ways to meet our clients' needs. We develop methods and services carefully targeted at meeting the specified requirements.
Full-Service Firm
With MSR Solutions Inc., you get a full-service consulting engineering firm that provides water supply and treatment design, wastewater treatment and disposal design, stormwater management design, construction engineering, environmental, permitting, inspection, research and development services.
Vendor Supplied Equipment
We work closely with our client's operators to ensure we can supply the most appropriate vendor-supplied equipment from the multiple choices available in the market. And we do it while meeting regulatory requirements. We'll select the appropriate technology and robust and reliable equipment to meet your needs.
Operator-Friendly Equipment
At MSR Solutions we ensure the equipment selected provides reliable and consistent operation and is operator-friendly. The team at MSR values the working relationships we have with our equipment suppliers. This provides consistency and it also ensures we meet all site-specific needs.
Cost-effective Residential & Commercial Engineering Services
MSR Solutions is committed to changing the paradigm of how engineering consulting firms provide services to clients. Our emphasis is solely on maximizing value to our clients through identifying optimal solutions that will benefit their bottom line. In doing so we have built and maintained a steady client base who appreciate the unique value our approach brings. We take pride in offering cost-effective, innovative engineering services in the following areas:
Wastewater Treatment Services
Our engineering team has decades of experience. We provide robust, innovative solutions for onsite wastewater treatment and disposal systems throughout British Columbia.
Water & Wastewater Analysis and Consultation Services
We employ a thoughtful, professional approach to analysis and consultation. We are big picture thinkers, adept at identifying and interpreting long-term trends, but are also able to recognize when a deeper dive into detailed numerical analysis is warranted.
MSR Solutions provides comprehensive engineering services for potable water treatment, conveyance and storage infrastructure. We employ an innovative approach to provide robust, cost-effective solutions which are optimized in terms of reliability and operability.
Water & Wastewater Operations and Maintenance Services
MSR Solutions is more than just an engineering design firm: we also provide ongoing operations and maintenance services for water and wastewater systems and employ an in-house EOCP-certified operator for small water systems.
Land Development Services
At MSR Solutions, we have a wealth of experience working with land development clients throughout British Columbia. We provide comprehensive land development solutions that meet the requirements of all levels of government.
Water & Wastewater Research and Development Services
2022 BCWWA Annual Conference & Trade Show
Watch the MSR Team's presentations at the recent BCWWA Convention.
Potable Rainwater Harvesting For An Airport
Septic Fields and Groundwater Sustainability
Professional Affiliations and Qualifications
British Columbia Water and Waste Association (BCWWA)
Engineers and Geoscientists of British Columbia (EGBC) – Professional Engineer, Limited Licensee (Engineering)
Applied Science Technologists and Technicians of British Columbia (ASTTBC), Applied Science Technologist (AScT)
Proudly certified as a leader in quality management under Engineers and Geoscientists BC's OQM Program from 2014 to 2021..
Join Our Team
MSR Solutions is always open to receiving resumes from people who want the opportunity to grow personally and professionally in their career. That someone will have a passion for providing creative and cost-effective engineering services that ensure high client satisfaction.
 Over 60 Years of Experience
The team at MSR Solutions continuously updates their knowledge. This ensures that you get the most up-to-date information available on products as well as technology. Many of our clients are in remote or small communities. Our team assists all our clients, with cost-effective and efficient ways to complete their projects. We understand how prohibitive cost can be at times. Therefore, we seek the best solutions for the right price. We'd be happy to come to meet with you at your project site and discuss your project needs.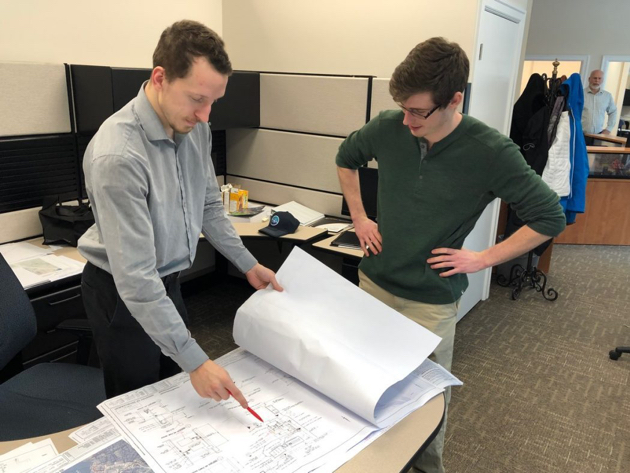 We have worked with MSR on various projects on Vancouver Island for about five years now. MSR Solutions pays attention to our needs and works with us and within our budgets. Mike Seymour help us navigate the regulatory approval process and speaks for us when we needed. He does it in such a way that it makes everyone's job easier.
MSR has been our project engineer of choice since the early stages of the Millstream Industrial Park water line development. They helped ensure we were compliant with local bylaws and CRD Water standards to bring our private domestic water distribution system into our 70-acre industrial park. This private water system supplies domestic water to our clients. In addition, they have also engineered drainage and fire protection systems.
Working with MSR Solutions makes my job easier. They are readily available to discuss our current upgrades and needs. Everyone at MSR is friendly, professional and they give prompt service, which is particularly important in my industry. I highly recommend working with them.
Punctuality, Quality, Responsiveness, Value. Knowledgeable and friendly staff who work hard to find the best solutions for your projects.
MSR Solutions has been busy as of late with the submission of Registration documents to the Ministry of Environment
Recent Projects
Since 2009, MSR Solutions has guided developers and governments in over 400 projects. Some of these projects included environmental impact studies, residential developments, tourism developments and resorts. We also work on infrastructures for sewage and storm water management as well as drinking and wastewater treatment systems.
This project provided a rainwater harvesting system to meet the potable water needs of the Prince Rupert Airport. The airport had identified the need to improve upon its current water supply from a lake intake, but alternative water sources were limited due to the airport being located on a small island.
The Limona Group has retained MSR Solutions to design and construct a community sewer system to serve the requirements for the development at build-out, to be built in stages.
Community Involvement
MSR encourages community involvement by corporate matching of charitable donations of the staff throughout the year, after a natural disaster or on an annual basis around the holidays. This year the staff donated to the Red Cross after the BC wildfires and the company matched the donations. For holidays MSR will match the employee donations to the CBC BC Food Bank and to the CFAX Santa's Anonymous. MSR incorporated a team building event with a charitable donation by building two bicycles and donating them the Boys and Girls club. MSR has an annual support of the Victoria Royals Minor Hockey with the purchase of season's tickets.
MSR encourages their employees to get involved in the community by being part of professional association. Our team members have volunteered on the BCCWWA board. Every year MSR participates in the trade show. Being part of the association team members have access to continuous training and this year team members who are part of the ASTTBC took online training in Indigenous Awareness.